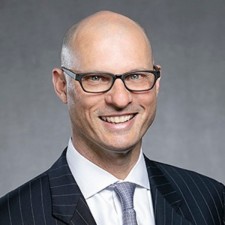 NEW YORK, April 29, 2020 (Newswire.com) - ​​​​Roberts & Ryan Investments Inc., a registered broker-dealer, certified Disabled Veteran Business Enterprise (DVBE), welcomes to the firm U.S. Marine Corps veteran Alexander Mainero as Managing Director of Capital Markets.
Alex joined the Marine Corps during college and was stationed at the USMC headquarters in Washington, D.C. He was assigned recruiting detail and became the face of the Marines. "… Alexander Mainero's pride and spirit are evident …" described General P.X. Kelly, Commandant USMC, of the cover of the January 1987 issue of "MARINES," the official magazine of the U.S. Marine Corps.
After his service in the U.S. Marine Corps, Alex began his financial services work at Barclays Bank, where he received formal training in credit, risk management and corporate finance. Following Barclays, Mainero became a senior corporate and investment banker working on several transactions worldwide across multiple products and industry sectors at various firms. This includes multiple years with Citigroup where he was based in New York and South America.
Alex has spent most of his finance career focusing on global capital markets, with 32 years of experience in the field. Mainero holds FINRA Series 79, 7 and 63 licenses.
"I have known Alex for over 10 years and had the pleasure of working with him. His extensive experience and distinguished career in global capital markets will be a tremendous asset to our firm. As a fellow veteran, he understands and will be a tremendous advocate for our social mission of supporting veterans and their families. His military and capital markets experience will be instrumental in helping us grow. We are very fortunate to have someone of Alex's caliber join our team," announced Ed D'Alessandro, COO and Head of Fixed Income.
Alex is first-generation American, a product of Argentinian and Italian parents, and fluent in Spanish and Portuguese. He is the first to have served in the military, fulfilling an American dream.
Alex is a graduate of the Universidade Catolica de Santos in Brazil, with a BBA-Bachelor of Business Administration. He lives in New York City with his wife and daughter.
Roberts & Ryan Investments Inc. is one of America's first Service-Disabled Veteran-Owned (SDVO) Broker-Dealers, having been established in 1987. The firm provides institutional investors equity execution services as well as access to the debt and equity capital markets. Roberts & Ryan has partnered with Citi in the Small Business Administration's Mentor Protégé program that provides guidance, assistance and opportunities to small, diverse businesses.
For more information, contact:
Roberts & Ryan Investments Inc.
Jennifer McDonough, 646-542-0745
Director of Administration
jmcdonough@roberts-ryan.com​
About Roberts & Ryan Investments Inc.
Roberts & Ryan Investments Inc. is one of America's first Service-Disabled Veteran-Owned (SDVO), FINRA-registered broker-dealers and is located in New York, Dallas and Seal Beach, California.
For more information, please visit www.roberts-ryan.com.
Source: Roberts & Ryan Investments, Inc.
Share: